(THE KIMBERLY JOY SHOW: Black History Month Tribute to Rev. Fred Shuttlesworth)
A MAN OF PURPOSE
God wants us His children to live our dreams, to walk in our purpose. When you walk close to God and listen to His voice, He shows you your purpose. In honor of Black History Month, I want to recognize a few African-Americans who serve as great examples of what it means to walk in your purpose and live your dreams. In this article, I'm recognizing Reverend Fred Shuttlesworth, a man of purpose, who was one of the pioneers of the Civil Rights Movement, later becoming a prominent pastor in Cincinnati.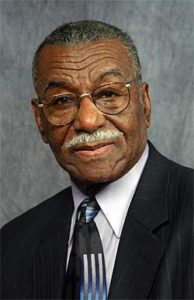 GOD'S CALL
Rev. Shuttlesworth was born Freddie Lee Robinson to Vetta Green and Alberta Robinson on March 18, 1922, in Mount Meigs, Alabama. Growing up in Birmingham, he adopted the last name Shuttlesworth after his mother married William Shuttlesworth. Although Shuttlesworth was valedictorian of his senior class, he wasn't financially able to go to college. So, he worked different jobs, including being a truck driver.
Subsequently, Shuttlesworth felt God's call to the ministry. Thus, he earned a degree from Selma University, a private and historically black Bible college, and a second degree from another historically black college Alabama State College, which is now Alabama State University.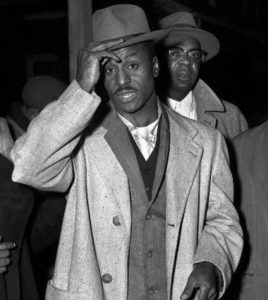 Shuttlesworth then began preaching at the First Baptist Church in Selma. In 1952, he became pastor of Bethel Baptist Church in Birmingham.
THE MOVEMENT
Birmingham is where Shuttlesworth became involved with the Civil Rights Movement. He worked with organizations like the Civic League and the National Association for the Advancement of Colored People (NAACP). When the NAACP was outlawed in the state of Alabama in 1956, Shuttlesworth founded the Alabama Christian Movement for Human Rights. The organization's focus was to overturn Birmingham's segregation laws. He also helped establish the Southern Christian Leadership Conference (SCLC) along with leaders like Rev. Dr. Martin Luther King, Jr.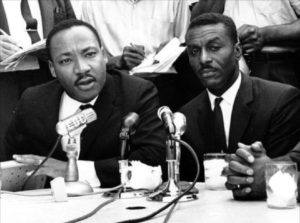 After the desegregation of the Montgomery, Alabama buses, Shuttlesworth began organizing efforts in his own city to implement bus desegregation. He also challenged the city's segregated schools when his wife Ruby and he attempted to enroll their daughter in an all-white school. Shuttlesworth even participated in sit-ins. A sit-in is "a form of protest in which demonstrators occupy a place, refusing to leave until their demands are met." During this era, sit-ins typically occurred at lunch counters where blacks were refused service. Furthermore, after the May 14, 1961 attacks on the Freedom Riders, Shuttlesworth provided refuge for the activists, even requesting assistance from Attorney General Robert Kennedy.
CONTINUING IN THE MOVEMENT
In 1961, Shuttlesworth moved to Cincinnati to pastor Revelation Baptist Church. Then in 1966, he founded the Greater New Light Baptist Church in the community of Avondale. Although he was now in Cincinnati, he still continued in the movement travelling back and forth to the South.
In 1965, he helped organize the Selma to Montgomery Voting Rights March. The purpose of the march was to demonstrate just how serious they were about all Blacks having the right to vote. In fact, back in June, some members of our church Power and Faith Ministries, along with members of I Am Grace Faith Ministries of Pennsylvania, traveled to Alabama for a conference.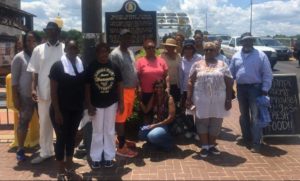 While we were there, we decided to walk across the Edmund Pettus Bridge in Selma—-the same bridge the protesters marched across fifty years ago as they made their way to Montgomery. However, we only walked across the bridge.
We didn't walk all the way to Montgomery like the protestors did, which was approximately 54 miles. Yes! 54 MILES!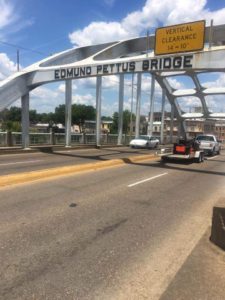 While continuing his activism in Birmingham, Shuttlesworth also fought for human rights in Cincinnati. For instance, he advocated for more minorities to be hired as police officers and to serve as members of city council. Later in the 1980s, Shuttlesworth established the Shuttlesworth Housing Foundation in Cincinnati in an effort to provide a source of low-income housing and to provide grants for home ownership.
IN HIS HONOR
Some of Shuttlesworth's honors include receiving the Presidential Citizens Medal from President Bill Clinton in 2001.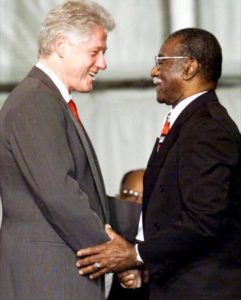 In 2008, the Birmingham-Shuttlesworth International Airport was named in his honor. Around that same time, Shuttlesworth moved back to Birmingham due to failing health. On October 5, 2011, he died at the age of 89.
A FAMILY MAN
Besides being a pastor and an activist, Shuttlesworth was also a family man. He was married to Ruby Keeler Shuttlesworth, and together they had four children: Patricia, Ruby, Fred Jr., and Carolyn. His other daughters included Maria and Audrey. Years later, Shuttlesworth married Sephira Bailey.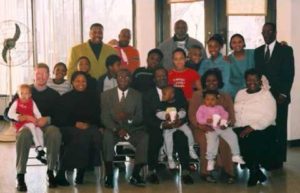 Although I never had the opportunity to meet Rev. Shuttlesworth, I had the pleasure of knowing his daughter Ruby when she and I worked at Princeton Junior High School in the late '90s.
A BRAVE SOUL
I share the story of Rev. Fred Shuttlesworth because, like so many activists during his time, he was truly a brave soul. Because of his many efforts to help improve life for Blacks in America, he was physically attacked on numerous occasions, arrested several times, and his home was blown up by the Ku Klux Klan on Christmas Day in 1956.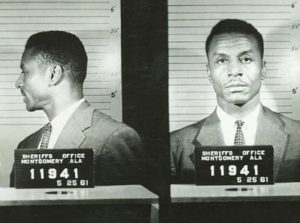 However, he didn't let anything or anyone stop him from fighting for justice and equal rights. When asked how he did it, he stated that it was the power of his faith in God that sustained him, which is a lesson we can all learn. Joshua 1:9 (New Living Translation) says:
"…Be strong and courageous! Do not be afraid or discouraged. For the LORD your God is with you wherever you go."
As believers in Christ Jesus, we are called to be a light. We are to take a stand for righteousness, even if it means being persecuted. We can't be afraid of what people may say or how they may treat us. Rev. Shuttlesworth understood his purpose and, therefore, didn't allow fear to stop him. As a result, we are now reaping the fruits of his labor.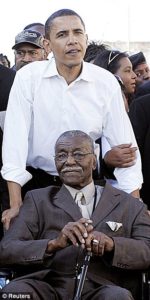 (Shuttlesworth with President Barack Obama)
Sources:
biography.com
britannica.com
equirer.com
library.cincymuseum.org
nytimes.com
THE PRAYER OF SALVATION
If you haven't accepted Jesus as your personal Lord and Savior, you can do so right now. I then encourage you to find a good Bible-believing church that will help you grow in your relationship with the Lord.
Romans 10:9 (NIV) says, "If you declare with your mouth, 'Jesus is Lord,' and believe in your heart that God raised Him from the dead, you will be saved."
Please pray the following prayer:
Dear Jesus, I come to You confessing I am a sinner in need of a Savior. I believe You shed Your blood on the cross and died for my sins, were buried and rose again so I could be free! Please forgive me for my sins and the life I have lived. I confess You Jesus as Lord and accept You as my own personal Savior. According to the Word of God, I am now saved! Hallelujah! I AM FREE!
WELCOME TO THE FAMILY OF GOD!!!!!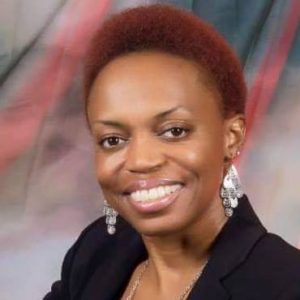 If you find value in this article, please share.
To subscribe to The Kimberly Joy Blog and receive new articles by email, please leave your email address in the box marked SUBSCRIBE TO BLOG VIA EMAIL provided at the end of the article.
Please follow The Kimberly Joy Show on Facebook, Instagram, Twitter and YouTube.