P.U.S.H. PRAY UNTIL SOMETHING HAPPENS
As Christians, we are to P.U.S.H. or pray until something happens. We are to pray to God continually. Ephesians 6 tells us that prayer is one of our weapons against the enemy. Notice what I said….ONE of our weapons! So, we have more than one weapon, and they each play a significant role in our lives as believers in Christ.
I shared in my previous blog post "P.U.S.H. Chapter Two," how God had to show me the importance of approaching Him the right way. I was in the habit of sometimes praying out of my emotions instead of praying in faith. The prayers I prayed out of fear, worry or frustration were not being very effective. For instance, there were times when I would just complain or vent to God, rather than really praying. In those moments I didn't feel like praying. I only felt like complaining. And for years, God allowed that behavior from me. However, recently, God has revealed to me that it's time for me to mature. Why? I now know God well enough to know that He will always come through for me. Regardless of how the situation looks, God ALWAYS comes through.
It reminds me one of my favorite Tye Tribbett songs. In the song he says:
"Please be encouraged. This is not the first storm you've been through. You've been through worse. You didn't come this far just to lose. He knows your needs, so take no thoughts on what you lost.
God will restore, and this is how I'm sure. If He did it before, He can do it again. Same God right now, same God back then."
James 1:17 says:
"Every good and perfect gift is from above, coming down from the Father of the heavenly lights, Who does not change like shifting shadows."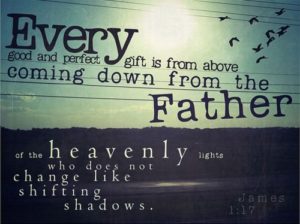 So, God our Father, our Creator, never changes. He is our Deliverer, Healer, Restorer, Teacher, Protector, Provider! God is EVERYTHING we need! Because we are human, sometimes we have to remind ourselves of that truth! I know I do!
QUESTION:
Have you ever been in a situation where it looked like it was never going to get better? I know I have! But, guess what? It eventually got better! I got what I needed…..my healing…..my breakthrough…..my deliverance…..my answers…..my instructions!
MY WEAPON OF PRAYER
As I was saying before, recently God told me that whenever I'm faced with a difficult situation, that's not the time to get in my feelings. Rather, that's the time to pick up my weapon of prayer!
God instructs me to pray HIS way. What does that mean? I am to pray His Word and His will, not my opinion or someone else's opinion. To pray God's way also means to pray in the Holy Spirit. For those who have been empowered to speak in tongues, that gift should be used as often as possible during prayer. Ephesians 6:11-12 say:
"11 Put on all of God's armor so that you will be able to stand firm against all strategies of the devil.
12 For we are not fighting against flesh-and-blood enemies, but against evil rulers and authorities of the unseen world, against mighty powers in this dark world, and against evil spirits in the heavenly places."
In other words, we are faced with Satan and his demons. I Peter 5:8 lets us know that the enemy is always on the prowl trying to destroy everyone he can. So, it's a must that we stay prayed up.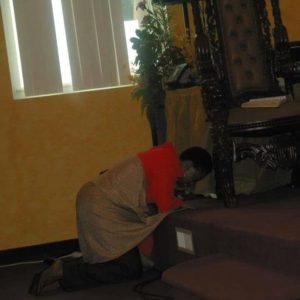 Ephesians 6:18 says:
"Pray in the Spirit at all times and on every occasion. Stay alert and be persistent in your prayers for all believers everywhere."
As the verse says, we are to always pray in the Holy Spirit and to pray for each other as believers in Christ. To take it a step further, we are to pray for ourselves, our families, our friends, our neighbors, our co-workers, our leaders (inside and outside of the church), our communities, our country, the WORLD!
WE HAVE A RESPONSIBILITY
According to I Timothy 2:1-4, we are to pray for all people because God wants everyone to know the truth of the Gospel of Jesus Christ and to be saved. That's right! God wants to see EVERYONE saved! So, as people of God, we have a responsibility to tell others about Jesus and to share our testimonies of what He's done for us personally. Testimonies can be very impactful. In some instances, sharing your personal testimony is more effective than just telling a Bible story. Your testimony helps those to whom you're witnessing to really connect with the message.
We, as believers, also have a responsibility to let our lights shine and, again, to pray! When we don't know what else to do, we can always pray. A perfect example is my own mother Geraldine Banks. Although I accepted Jesus as my Lord and Savior at a young age, I haven't always gotten things right. However, what has helped me in my spiritual walk has been my mother. It wasn't because she always got everything right. She wasn't supermom (if there's even such a thing). She didn't have a manual for "How To Be the Perfect Parent". What she did have was her relationship with God, the Bible, and a strong prayer life. My mother prayed (and still prays) for my brother and me.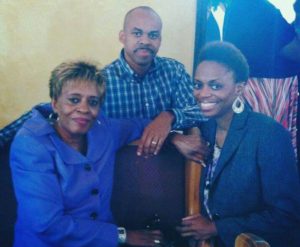 And when I say she prayed for us, I'm not referring to her silent, private prayers. Rather, I'm talking about the prayers I was blessed to hear in the middle of the night. There's nothing like hearing my mom pray for me. Hearing her walk up and down the hallway, calling out our names, speaking in tongues and interceding for us just reaffirmed her love for us. Her prayers helped me to want to do better and live right.
Again, God is commissioning us to pray, not complain, not worry, but PRAY! I know from personal experience that satan does everything he possibly can to try to convince us not to pray. Why is that? Even he knows that prayer still works! Therefore, we can't allow ourselves to be fooled by him anymore.
I want to urge you to really use your weapon of prayer, even when you don't feel like it. That's why I appreciate being able to pray in the Holy Spirit. Romans 8:26 says that, even when we don't know what to pray for, the Holy Spirit knows.
If you don't currently speak in tongues, that's okay! God still hears your prayers! However, I encourage you to ask the Holy Spirit to empower you to speak in tongues, and He will! Again, praying in the Holy Spirit is a powerful weapon against the enemy. Besides, when we speak in tongues, Satan and his demons have no idea what we're saying. Remember, unlike God, Satan is not omnipresent or all-knowing.
I believe God is ready to do greater things in our lives and in the lives of those around us. Therefore, children of God, we must continue to P.U.S.H!
("The Kimberly Joy Show: P.U.S.H Pray Until Something Happens Part 3")
If you find value in this blog post, please share.
To subscribe to The Kimberly Joy Blog and receive new posts by email, please leave your email address in the box marked SUBSCRIBE TO BLOG VIA EMAIL provided at the end of this post.