(The Kimberly Joy Show: God Says, "Rest in Me and Enjoy Your Life")
HOW DO WE EXPERIENCE REST IN GOD?
In order to rest in God, we have to have total faith in Him. When we choose to believe God above everything and everyone else, we experience rest. Philippians 4:7 says we experience a peace that is beyond human comprehension. It's something that can't be explained. For example, you may be going through something really difficult, yet you appear to be very calm. As a result, those around you, who don't know about resting in God, think something is seriously wrong with you! Due to your current situation, they expect you to be upset, angry or depressed. Because you're not, they assume you're in denial about your situation. But, you're not in denial! You've just chosen to put all your faith in God!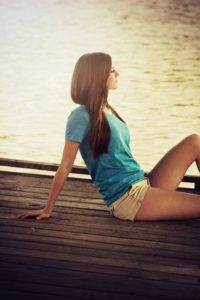 Personally speaking, I know resting in God is not always easy. Just because I have been saved and filled with the Holy Spirit doesn't mean I will automatically handle every situation, good or bad, as God would expect. I have to work at it every day! Why? I'm still in this flesh. I'm not perfect. However, I do serve a perfect God, and I have to make a decision to pursue the perfect God every day!
God has provided us with His Word to show us what to do, how to behave, how to think and what to avoid. God doesn't just TELL us to rest in Him, but He shows us how. Throughout the Bible are examples we can emulate. In my article "Resting in God," I shared the story of Paul and Silas when they were in jail (Acts 16). While they were in jail, they worshipped God! They could have gotten mad or been depressed. Perhaps they were experiencing some of those emotions. However, instead of yielding to those negative emotions, they pursued God's peace. They chose to still believe God. Consequently, they were set free from jail because of their faith. James 2:26 (King James Version) says:
"…..faith without works is dead….."
Paul and Silas didn't just claim to have faith in God, but they proved it by praying instead of complaining and by singing praises to God instead of worrying or crying. They did this all while locked in chains behind a prison wall.
Another individual from the Bible, who demonstrated how to rest in God, was King David. Anyone who is familiar with David's story knows he made some serious mistakes during his life. Nevertheless, even when he fell down, he found rest in God through his repentance. In Psalms 51:10-12 (KJV), David prayed to God:
"10 Create in me a clean heart, O God; and renew a right spirit within me.
11 Cast me not away from Thy presence; and take not Thy Holy Spirit from me.
12 Restore unto me the joy of Thy salvation; and uphold me with Thy free Spirit."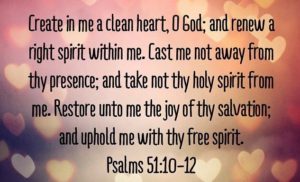 King David prayed this particular prayer after God sent the prophet Nathan to confront him about a sinful act he had tried to cover up
(II Samuel 12). Although God could have easily struck David down for his wickedness, He chose not to. Instead, He extended His love, mercy, and grace to David. Recognizing that God was giving him another chance, David repented—–he SINCERELY repented.
WHO IS CONDEMNING YOU?
Like David, you may have done something you're not proud of or once lived a life you wish you could forget. Even though you have asked God to forgive you, you still feel guilty. Why do you feel guilty? Is God condemning you? NO!!! The eighth chapter of Romans lets us know that those of us who belong to Christ Jesus are no longer condemned. We have been set free!
So, if you still feel guilty, even after you have sincerely repented, perhaps it's because those around you like to remind you of your past or because you haven't forgiven yourself.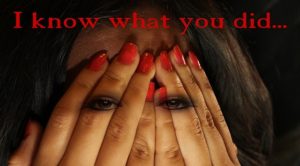 Either way, Satan is behind it! But, he's a LIAR! God doesn't want you holding onto that guilt. He wants you to let it go and rest in Him. Trust in His power of forgiveness and salvation.
While you may have to suffer some consequences for your past wrongdoing, it still doesn't mean God hasn't forgiven you and changed you on the inside. For instance, if you have sex with someone to whom you're not married, you may wind up with an unwanted pregnancy or with an STD. If that's the case, it's not a sign that God hasn't forgiven you. It's a sign that you're reaping what you sowed. However, as you move forward in God and strive to live holy, He can bless that baby in a special way or completely heal your body.
Recently, a young lady contacted me requesting prayer. She admitted to doing something she knew was wrong and was feeling bad about it. I assured her I would pray for her. I then encouraged her to not beat herself up and reminded her of God's love and forgiveness. I also explained to her that her feeling of guilt was a good sign. Why? It proves she has a conscience and that she is still God's daughter. Finally, I encouraged her to avoid going down that road again.
WHAT DOES IT MEAN TO BE CONTENT?
I've shared before that you can find rest in God through worship, prayer, and obedience. You can also find rest in God by simply enjoying your life. Bible teacher and author Joyce Meyer says, "Learn how to enjoy where you are on the way to where you're going." In other words, smile often and laugh as much as possible. Just enjoy the stage at which you are in your life. You may not be where you want to be or have certain things you would like right now. Nonetheless, that's no reason to be down in the dumps. Trust me, someone somewhere wishes he or she had YOUR life. Paul says in Philippians 4:11:
"…I have learned how to be content with whatever I have."
To be content with where you currently are in life doesn't mean you shouldn't desire more because God has more for you. It just means your desires shouldn't cause you anxiety and stress. Your desires shouldn't be more important than you being grateful and giving God the glory. God doesn't want to hear our murmuring and complaining. Rather, He wants to hear our praise and see our smiling faces. He wants us to extend a helping hand to someone in need. When we focus on the Lord and do what pleases Him, Psalms 37:4 says He is guaranteed to give us what we desire.
Resting in God takes away the pressure Satan and the world try to place on us. When we give everything to God, He gives us His peace, and then things can be done His way….the RIGHT way. So, make it a point every day to rest in God and gratefully enjoy this life He has so graciously given you!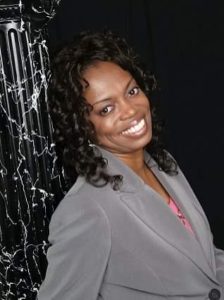 If you find value in this article, please share.
To subscribe to The Kimberly Joy Blog and receive new articles by email, please leave your email address in the box marked SUBSCRIBE TO BLOG VIA EMAIL provided at the end of this article.